Top Ten Things To Do In Penzance
I visited Penzance in June of 2022 and used it as a jumping off point to explore the Cornish coast. West Cornwall is a beautiful part of England and Penzance was a great spot to see it all from. The town has lots of things to do on your doorstep – from arts and nature to shopping and history – and the good weather and scenic walks were just another plus. After thoroughly enjoying this quaint village and its surroundings, here are the Top Ten Things to Do in Penzance.
1. Walk the Coastline – Coastal Walks in Penzance
Penzance is a great spot to explore the coastline of Cornwall on foot, as the South West Coast path goes through the high street. There is also a lovely promenade along the sea front that extends to Newlyn, and beyond, perfect for sunset walks. Continuing along this path connects you to the rugged coastal trails all the way around the Cornish Peninsula.

The south west coast path goes along the coast all the way past St Ives and to Devon. Walking from Penzance to Mousehole (pronounced Moze-ul), and then on to Lamorna (super cute!) and Porthcuno Beach is as scenic as it gets. Wear proper shoes for this walk as it goes through bays and hills, forests and rocky pathways. If that's too much for you, Morrab gardens is a nice spot to go for a walk. It has a central fountain and lots of sub tropical plants.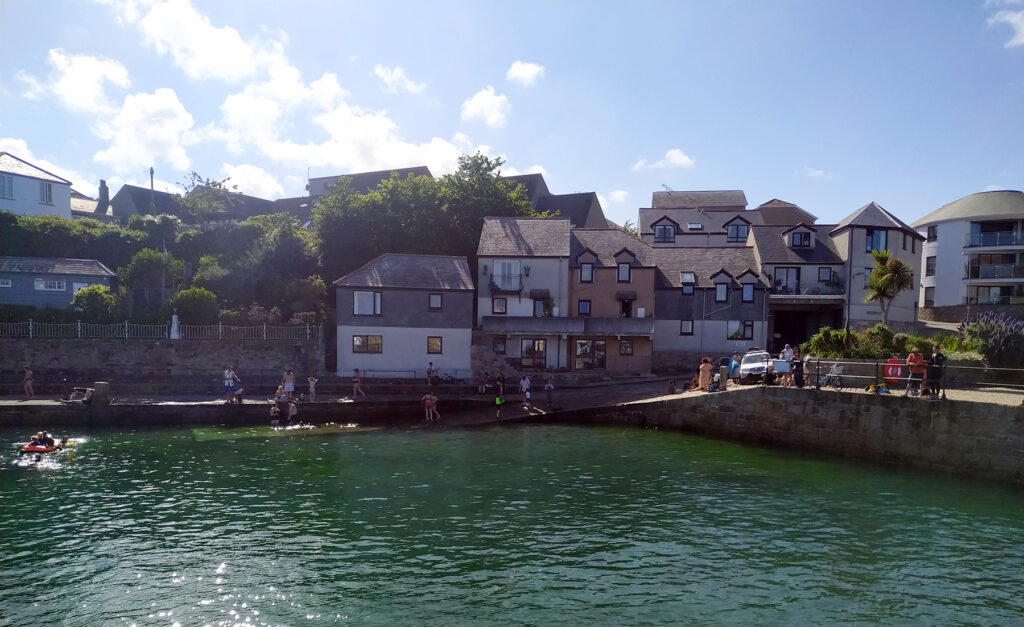 2. Get in the water! – Beaches in Penzance
As Penzance sits on the sea front, the whole shoreline is technically a beach, besides the Marina area. The shoreline is rocky compared to other parts of Cornwall, but gets sandier as you move East. It's also is tidal, so upon low tide, you will have to walk a bit to get in. I was expecting the sea to be hypothermic temperatures in June, but it was actually quite refreshing! Every day we saw locals swimming in the harbour area during high tide.
There is also an outdoor thermal pool in Penzance which is great after a day of hiking. Jubilee Pool is an affordable large open air sea water pool. It also has a small café, changerooms and shop, and the outdoor thermal spa. Definitely worth a visit!

3. See local Artworks – Art Galleries in Penzance
As with many small towns in Cornwall, they each have their own art gallery or two showcasing local artists. Inspired by the local scenery and history, Penlee House Gallery is just adjacent to the lovely Morrab Gardens. There are a few other galleries along the main street, as well as a week long art festival in the summer. Just out of town, the Tremenheere sculpture gardens and Newlyn Art Gallery offer modern art and coffee shops with stunning sea views.
4. Go Retro! Vintage Shopping in Penzance
This was one of my favourite things to do in Penzance. I wasn't expecting to go thrift shopping while in a fisherman's village, but there were shops on every corner so I had to stop in a have a gander. Some were more curated than others – like a fifties pinup dress shop, but they all offered some local Tees and marine trinkets. Walking along the town centre of Chapel street and Market Jew St, you will pass most of them!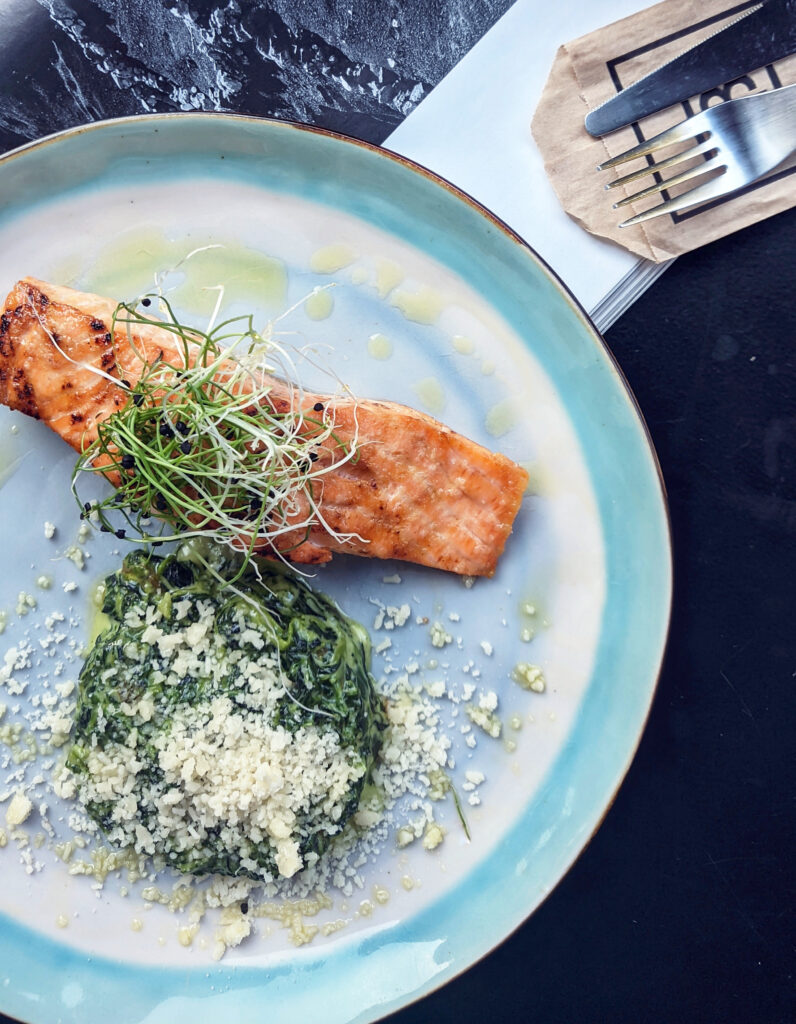 5. Try the fresh Seafood – Restaurants in Penzance
As Penzance is traditionally a fishing village, there is plenty of seafood and great restaurants to try. I wanted to visit them all but there weren't enough days in my trip! Here were my favorite places to eat, and a few that I wish I had the time to try.
Artist Residence Clubhouse – This is actually a small hotel, but offers an upscale rustic restaurant very artfully designed. There is also a rooftop patio that serves small snacks and drinks that is very cute. I would like to see them offering some live music up here!
45 Queen St – Tucked behind Chapel Street, is this trendy tapas style eatery. Serving hand crafted cocktails and small plates all from local ingredients, this was my favorite spot if only for the stylish decor!
The Waterside Meadery – I wanted to try this one just for the mead (alcohol made from honey), but it is more of a restaurant and is only open for dinner so I didn't make it. It says it has a pirate theme, so I'll be there next time for sure!
The Boatshed – This is a modern seafood restaurant. They have a ton of fresh specials everyday listed on the board out front. The interior is cute, but upstairs was a little bare, still very good food and service.
Old Lifeboat House Bistro – It may the typical place to go as it is right on the harbour, but for good reason. It is an old boat house with lovely old fashioned marine decor but with a fresh menu serving seafood and local cuisine.
6. Enjoy some live Music – Pubs in Penzance
In addition to the good food, there were plenty of local pubs in Penzance that offered good home cooking, local brews and live entertainment. Of course I went out every night and found an impressive amount of variety and local talent. Here's a quick summary of the pubs and bars
Admiral Benbow – This was the quintessential Cornish pub that I was looking for. It is ornately decorated like you are on a ship, have a large menu, and the kitchen is open later than most places. The cherry on top was a local performance every Thursday evening. When I was there, there were about ten people playing violin, accordions, guitar, baron, and some other instruments that I never saw before, all singing local folk tunes. They eventually got us up and dancing and it was the most local experience and best night we had.
The Vault – This is another bar right on Chapel street, that had a solid line up of local artists playing all summer. We saw a young woman belting out the top hits and she was really good. The espresso martinis weren't bad either!
The Lugger Inn – I wasn't sure if this fit under restaurants or pubs, but its the only place with a solid view of the sea. I went mid day on a Saturday and they had live music outside on the huge sunny terrace. It is actually a small hotel but serves a large menu, including breakfast – I wish I had found it sooner!
The White Lion – If your looking for Karaoke, this is the spot. They have it on Thursday through Sunday and are open late into the evening. I went around midnight and it wasn't very busy, there was one lady singing but it was quite bad so we had one shot and carried on. But I guess Karaoke is always hit or miss, so take your chances!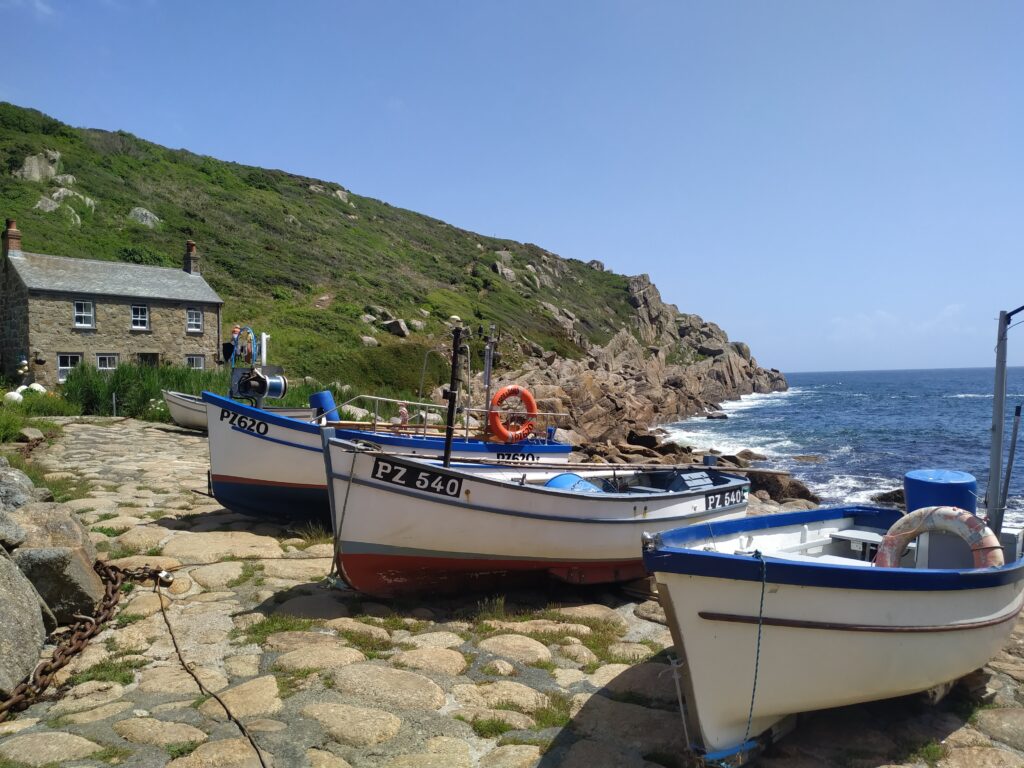 7. Take a boat Trip in Penzance
I love to get another perspective of the place I am visiting and getting out on the water is a great way to see it. Penzance offers lots of boat trips for fishing or seeing wildlife like seals, dolphins and maybe even whales. The guides know everything about the environment and history so even if you just take a trip to Lands End you will see and learn a lot!
8. Explore the Surrounding Area – Things to do NEAR Penzance
As Penzance is quite small, driving just a few minutes outside of town you will find more natural attractions. Just along the seafront, there is St. Michael's Mount which is a medieval castle and gardens on a little island that is only accessible by boat when the tide is in! It has an odd opening schedule so definitely check it out beforehand. There are also a handful of gardens near Penzance that are worth a visit to see the tropical plants and palaces, like Tanglewood wild garden, Trengwainton Garden and Trewidden garden – all fun to pronounce!
9. Day trips to St Ives, Tin Mines, and Porthcuno
Penzance is a perfect jumping off point for the rest of West Cornwall. One of the reasons I chose it was how easy it was to get from London (a direct train!). The penzance bus station also has a great network going to all the major sights. The Tinner bus was one of my favourites with the open top, but St Ives was beautiful and Porthcuno beach is a spot not to miss! Of course every little cove is beautiful, but if you aren't walking the coastal path, the tourist buses are the way to go!
10. Do A little dance, Like the Pirates of Penzance!
The "Pirates of Penzance" is actually a ballet that is set in the village, but the saying gets stuck in your head! This phrase kept coming up in my travel research so I thought it was worth including… and why not have a dance when your on holiday? Any of the above spots are perfect to do a little jig!
Hopefully this list will keep you busy while visiting Penzance, but let me know if I missed anything!
Like this post? Pin it for Later!