The Lauberhorn ski race is the longest and oldest track on the Ski World Cup circuit. It draws crowds from all over Switzerland and abroad and everyone loves it…. except the bartenders! I am working in a bar in the small Swiss town that hosts the Lauberhorn race. Wengen is high up in the Swiss Alps and has great skiing, no cars and is pretty quiet for most of the season. However for one weekend in January, the International Ski World cup comes to Wengen with 50,000 people in tow. Some people say this race keeps the village alive but the race itself has been happening here for decades and it is certainly an event to experience.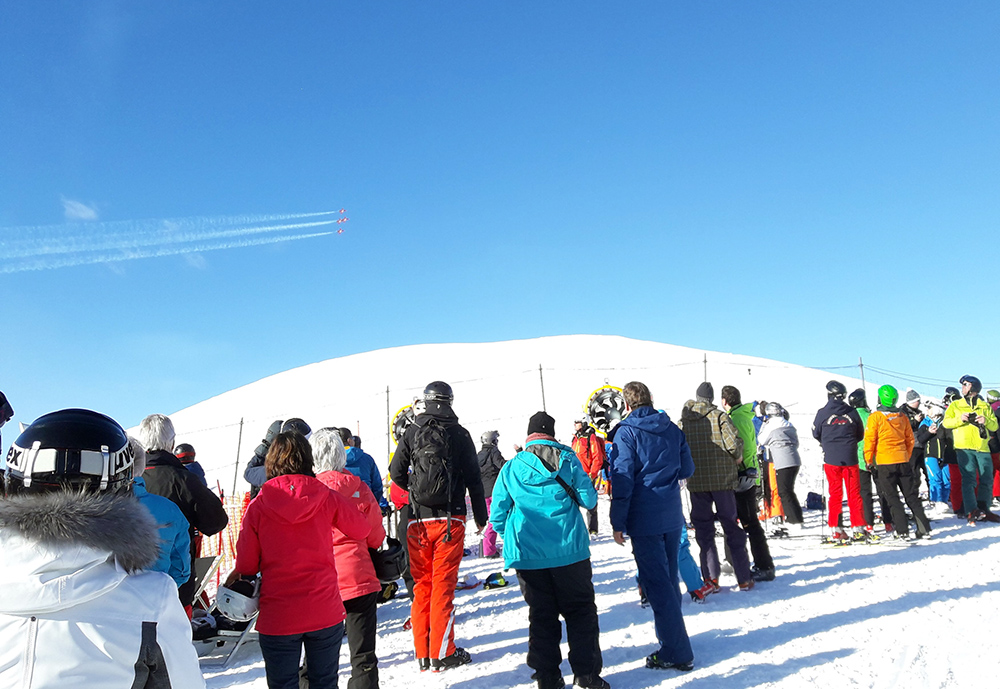 For me, working in a bar in a small town is pretty easy. You know everyone's name and their favourite drink. As long as you can survive the Lauberhorn weekend, the rest of the season is pure bliss. Ask any other hospitality worker in Wengen and they will tell you how much they hate the race. It is crowded and crazy, with no closing times all workers are pushed to their limits, physically running around and with their patience, trying to tolerate all the hooligans.
Yet for some reason, I love the Lauberhorn race. Maybe its just all the excitement or meeting all the skiers, besides the part where I barely sleep, its wonderful. Here's how I survived it;
Lauberhorn Weekend
The main race is on Saturday and there's finally enough snow and good weather that everything looks to be a go (in previous years it was cancelled due to bad weather). By Wednesday there are already more people on the streets and in the bars, and I get home around 3am. Since this week is unusually nice weather with lots of snow, I get up early on Thursday to do a quick few runs before work and before it gets too busy. That was probably a bad idea because Thursday night is crazy. All the teams have arrived and the juniors already went so they come in celebrating, spraying champagne everywhere in a language I can't understand. I am all sticky and have a few more hours before we close. That's night number one.
Friday
Friday night is when it really starts. All the bars in town are allowed to stay open as late as they want. We start working at 3pm and don't close the bar until around 3am. The town of Wengen is lit up with food and drink stalls, free giveaways and a big stage to celebrate the winners. The streets are jam packed with tourists and spectators as well as the Ski teams.
Now we have people from all over the world arriving and asking for things I have never heard of, if I can hear them at all, it is so loud. We have to take a few breaks within my team to have a shot or a drink ourselves just so we can handle the craziness of all these people. They are so excited for the race, they are dressed up in costumes or traditional Swiss liederhozen just like oktoberfest. By the time we close, its like a hurricane hit and there's a few people sleeping in the corners. We sweep them out with the garbage.
Saturday
Saturday is race day! Finally! Since I have never actually seen ski racing in Canada, I like to go watch. After cleaning the bar the night before I got to bed around 5am and woke up at 10am to hike down to the finishing line. There were 50,000 people that came to watch the race. Luckily, they spread themselves out over the mountain to watch certain turns and jumps, as well as the finish line. So it wasn't too busy where I was, which was nice so we could have a good view and short lines to buy snacks. We got a bottle of wine and some raclette while the sun was shining. It's nice to break up the weekend work with some time outside.
Unfortunately we open the bar early on Saturday at 2pm, at which time there is already a line up to get inside. What?! From then on, we are just trying to pour as many beers as possible and not think about the time since we know its going to be a long night. The hardest part about the Lauberhorn race day is that many of the people coming are rural Swiss. They don't speak much english and their accent makes them sound quite harsh. Pair this with when they are drunk and slam on the table yelling "Shtanger" it doens't take long until your hoping they leave. Where are my usual clientele?! They all leave for the weekend or know better than to cram inside our tiny bar. These guys are even more excited because a Swiss skier won this year. It is actually so packed that the bar is overflowing to outside.
Sunday
We work well into Sunday night (or morning) and try not to look at the clock, just keep serving, restocking and serving more to these wild drinking animals. By the time it is dark, people are getting sloppy and falling all over the place so we try to keep them out of the bar. Yet we don't have any problems with people, they are kind or drunk enough to leave on their own when asked. We closed up around 4am and had a lot of cleaning to do. Once we finish, we know we have survived so try to have a little fun of our own.
There are a few bars that are run by friends that only open for this weekend, so we go say hi. It is maybe 6am and there's still people around, so we join them for a few drinks before heading home. By this point we don't even know what time it is since we just keep going. I'm not sure what time it was when I got home but I was glad to hit the sack. I had to set my alarm for 1pm in order to get up in time for work again. I rolled out of bed fully dressed from the night before and just put my boots directly on and walked back to the bar.
Going to work on Sunday I am a wreck and probably look it too, but I know that it will be easy and all the crazy people have gone home. I like the Lauberhorn race, as it brings Wengen to life, but I am always happier once it is over!