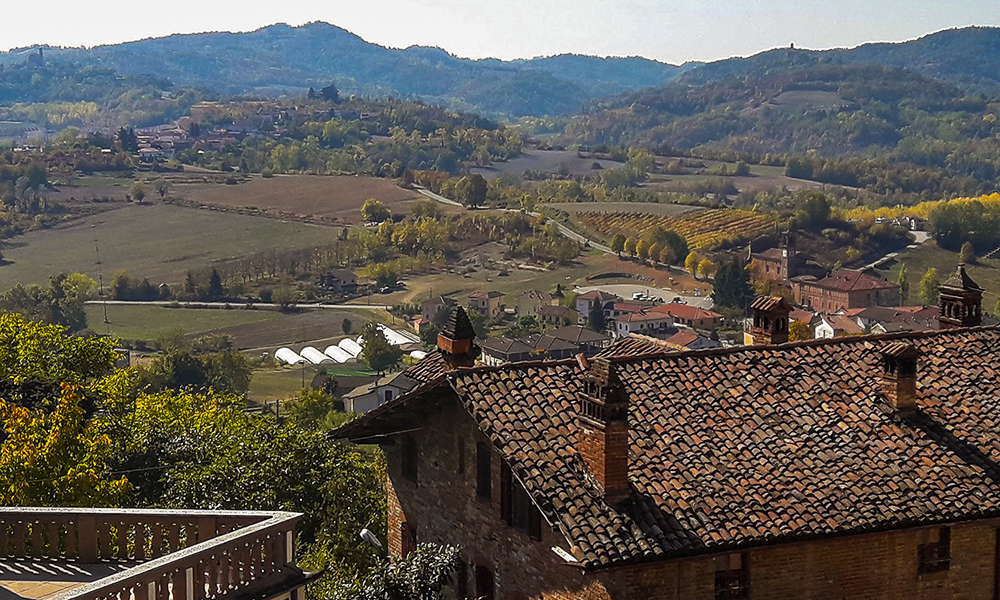 A Whirlwind Weekend In Northern Italy
Being true to my North American nature, when we come to Europe, we go to as many places in the shortest amount of time possible. Well for this trip, I actually have a lot of time (an indefinite amount actually) and yet I still make the random offshoot weekend holiday to the middle of nowhere just because I found a cheap flight.
Seven euros to be precise, how could I not go? Actually there is more to the story than this, but essentially I left for rural Italy, after a week in Ireland's pubs, all on my own. I had been considering since I have been following an architecture project there, and was invited to an event on Saturday. So I thought, "I'm not busy" and went.
The thing was that I was already exhausted from a week "networking" in Ireland and totally unprepared to navigate myself around Italy in a rental car without internet or a lick of Italian. While waiting for my flight, I downloaded some "Learn Italian" podcasts, that really came in handy, NOT… Italian is way more difficult than I expected! I know enough French and Spanish to get by, so I just figured Italian would fill itself in if I used my hands, but NOPE, it is totally different, and although I could understand a little, I found myself speaking more Cambodian than English… which mostly sounds like chicken clucks to Italians I imagine.
So Friday morning I arrive home in Dublin with 2 hours to swap my carry-on luggage for Italian ready clothes, although it sadly turned out to be the same temperature as Ireland. I arrived in Milan around 9pm and somehow found my airbnb without directions driving a manual rental car in the dark (My international SIM card had failed me) and it was midnight by the time I got to bed. As I lay there so happy to relax, reading over the itinerary for my event the next day, I realize that I am supposed to bring my own bicycle! WHAT? How the heck is this possible?!? I already have to get up at 6am in order to get there in time and now I am looking up where to rent a bike before 8am in an Italian ghost town for a Saturday morning…. Not gonna happen.
Being without internet, I could only load directions on my phone when I had WIFI, and that meant before I left, which was useless because if I take a wrong turn (every 5 minutes) it can't recalculate. So I overshot my exit by half an hour on the highway of course… no big deal, I just acted like every other person around and pretended I was an F1 driver on the small dirt roads in order to get there on time! See, I am already blending in 🙂
Lady luck was definitely on my side this day. I was the first to arrive and the lady running the event spoke English, and she found me a bicycle! Oddly enough, I was the only foreigner there and barely anyone else spoke English. They were all very curious about me, so they introduced me to their mayor (this always seems to happen to me), and a guy named Fabio interviewed me for their website (why are they all named Fabio!?).
The rest of the day was wonderful, the event was to familiarize people interested with the project of restoring old buildings of significance along a new bike path throughout Italy. We biked through the forest and along rice paddies and stopped at an old mill for a little tour. After that, they had a big lunch waiting for us in the main square, probably about 50 people sitting around picnic tables and three large chefs in their white hats and outfits dishing up risotto and pouring endless wine. It's hard to top that, and hard to say no to Italians when it come to food and wine I learned!
Once I was full and a little tipsy, I had to find my accommodations for that evening, and by this time I was ready to collapse after averaging less than 4 hours of sleep all week. I was hoping to stay in the town, but it was such a post industrial dustball that I didn't see a single guesthouse sign. I could have made friends with a local but they didn't speak English, so I found a cafe with wifi to book an airbnb nearby and load my directions before setting out, just in time for the sunset.
It was a beautiful old townhouse and the family invited me to dinner. The lady picked fresh vegetables from the garden and made some pasta, it was so simple and delicious that I filled up, forgetting how Italians only eat pasta as their first course! Ooops, I just stuffed a few more things in my mouth and had to tell them I was full. Then they brought out some homemade limoncello and after a shot of that I was off to bed and slept for 16 hours!
After that long day I was ready for a familiar face and made my way back to Milan to meet a friend before flying out (with a few scenic stops). I survived Italy, not realizing how difficult it is to navigate on my own. Oh yeah, and once I left I realized I just had to flick a switch on my phone to get my SIM card working! Of course my trip could have been so much easier, but that would have cut out all the fun 😉
P.S. On this trip, people kept placing espresso in front of me, from my airbnb hosts, to the town's mayor, and with such little sleep I welcomed it. But now, a month later, I havent stopped!!! What has Italy done to me?!!?!?!?