7 Most Scenic Dublin Walks
Exploring a city by foot is the best way, and Dublin has such a variety of neighborhoods that they all deserve a scenic walk. Walking is free and it slows you down to experience the city rather than just take photos and move on to the next place. These are the most scenic walks in Dublin, Ireland that will leave you feeling like you have experienced the city and county thoroughly.
Dublin walks are endless but as the city has grown around a bay, Dublin coastal walks are the most popular. With sweeping views of the Irish sea, varying tides, and rugged landscape found the further out you go, a walk can go from an hour long to all day if you have the time.
These are the seven most scenic Dublin walks that vary from nature zones to urban areas so that you can experience everything this amazing city has to offer.
1. Dublin City Scenic Walk
This Dublin walk takes you around the most popular spots in the city central. Anytime I am showing friends around Ireland for the first time, this is the walk that I take them on. It is not very long, only about 4km but it can easily take half a day depending on how much you stop, as you will pass monuments, buskers, museums and of course lots of pubs!
To see all of the city, I start on the south side, passing the museums and parks before making my way through trinity college and temple bar to finish up on the Northside of Dublin. Pearse station is a good starting point if you are taking the DART into the centre. Here is the list of Landmarks you will find along this scenic walk through Dublin city.
Pearse Station
Kildare Street – Government buildings and free museums
St Stephen's Green – Lovely walking paths, ponds and gardens
Grafton Street – Musicians, buskers, shopping, Bewley's Tea House
Trinity College – Book of Kells and Georgian architecture
Molly Malone Statue
Temple Bar
Ha'Penny Bridge
O'Connell Street – Monuments, GPO, Shopping
Dublin Spire
After following this walking route, you end up on one of Dublin's main streets and can find any number of Irish pubs, restaurants or shopping to continue your day or find transport back. See google maps below for exact directions.
2. Dun Laoghaire Coastal Walk – Seapoint to Sandy Cove
Moving a little further down the south coast of Dublin, is Dun Laoghaire Harbour, a charming old harbour now home to sailing clubs and restaurants. This area is lovely to walk along the pier or down to the little beaches and Martello Towers. Walking from Seapoint to Sandy Cove has stunning views and is roughly 4km but will take 1-2 hours. You can stop to swim in the summer or for lunch in the harbour.
Seapoint is a small beach overlooked by a historic Martello tower which can take you the scenic way to Dun Laoghaire. After passing along the seafront and through the strip of restaurants in the harbour area, you can continue to Sandy Cove. Sandy Cove is just as pretty as it sounds making a picturesque coastal walk along the beach.
Ending this scenic Dublin walk is the lookout point called Forty Foot, and just beside is the Martello Tower of Sandy Cove which has now been turned into a James Joyce Museum. Both of these are worth exploring before heading back to the city centre. See the route below for precise directions.
3. North Bull Island – Dublin Nature walk
Looking for a nature walk in Dublin? Bull Island is a peaceful island and nature sanctuary with a 5km stretch of sandy beach right in Dublin Bay. You might not have thought that Dublin could have sand dunes or so much protected land for flora and fauna so close to the city but it does and it is serene. Walking the length of the shore is relaxing, especially when the tide is out and the beach goes on for miles.
Entering Bull Island from Clontarf, you walk along an old wooden bridge that brings you to the Dollymount Strand. From here you can walk as far as you like or turn into the Interpretive centre and learn about the migrations of birds and wildlife living on the island. Visiting Bull Island is a truly scenic walk in Dublin and perfect for any nature lover.
4. Dublin Grand Canal Walk
This is a flat route along the scenic canal in South Dublin. With weeping willows and historic bridges, it is a peaceful walk that brings you into the new Grand Canal Dock area. Starting out at Harold's cross or Sally's Bridge, it will take you about an hour to walk the 4km to Grand Canal Dock.
This Dublin walk is more for those looking or a leisurely stroll without all the checkpoints. You will find many locals walking or running along this path as well as a handful of birds and swans. There are also statues and monuments along the water's edge to stop and admire the view, and of course a fair share of Irish pubs. Half way through the way you will come across The Barge Gastro Bar or the Wellington to stop for a pint.
All in all if you are looking for a scenic Dublin walk that makes you feel like a local rather than a tourist and just want to enjoy daily life in Dublin, this is a beautiful casual walk.
5. Walk Around Phoenix Park
Phoenix Park is the largest park in a European capital, and over twice the size of New York's Central Park. This huge walled city park used to be the hunting grounds for royalty. Today there are a few buildings for visitors, a tea house and the Dublin Zoo, among endless walking paths and forested areas.
The Phoenix Park Visitors Centre is a nice place to start so you can learn a bit about the area and it also has a walled garden and cafe, before making your way down the promenade, past the monument and back towards town. This will take you about an hour and offer many scenic views of the park, as well as gardens and tea rooms near the end.
There are so many beautiful routes in the park its hard to pick just one, but renting a bike can get you around faster and is quite safe as there are limited vehicles on the grounds.
Dublin Scenic Walks – Day Trips
If you have some more time to spend the whole day walking around a new area of Dublin, these next two routes are a little farther out from the city. They take longer to travel to, but are well worth the more rural views and rewarding pint of Guinness afterwards! Getting just to the outskirts of Dublin really gives you a sense of what the rest of Ireland feels like.
6. Howth Coastal Walk – Tower to Harbour
This is my favourite walk in Dublin, and I have done it many times. Even though the Howth Peninsula is still in Dublin, it feels like an escape from the city. The peninsula has many walking trails but the path around the coastline is a rugged mixture of greenery, beaches, marinas and cliffs. This is as close as you will get to hiking in Dublin.
The best walk in Howth is from the Martello Tower in Sutton or the Bailey lighthouse and taking the coastal trail all the way around the perimeter to Howth Marina. This walk is about 5km from the lighthouse or 9km from teh Tower and takes about an hour and half to two hours or more as you will want to take photos at every turn. Ending the walk in Howth is lovely as the quaint harbour has a good selection of fresh local restaurants and the DART station can take you easily back to the city centre.
You may want to bring water and wear proper walking shoes as the pathway is narrow and not paved. And as Ireland is known for the rain, always bring a jacket or umbrella just in case!
7. Bray to Greystones Walk
This is another stunning coastal walk a little further out from Dublin. Technically this route is in Wicklow county but still on the Dublin commuter train and easily reached from the city centre. Starting from Bray Station, you will walk along the sea front mountain path that offers amazing views of Dublin Bay as well as marine wildlife and the Wicklow mountains. The path brings you into Greystones after about 2.5 hours where you can catch the DART train again back to the city. See this map for the exact route.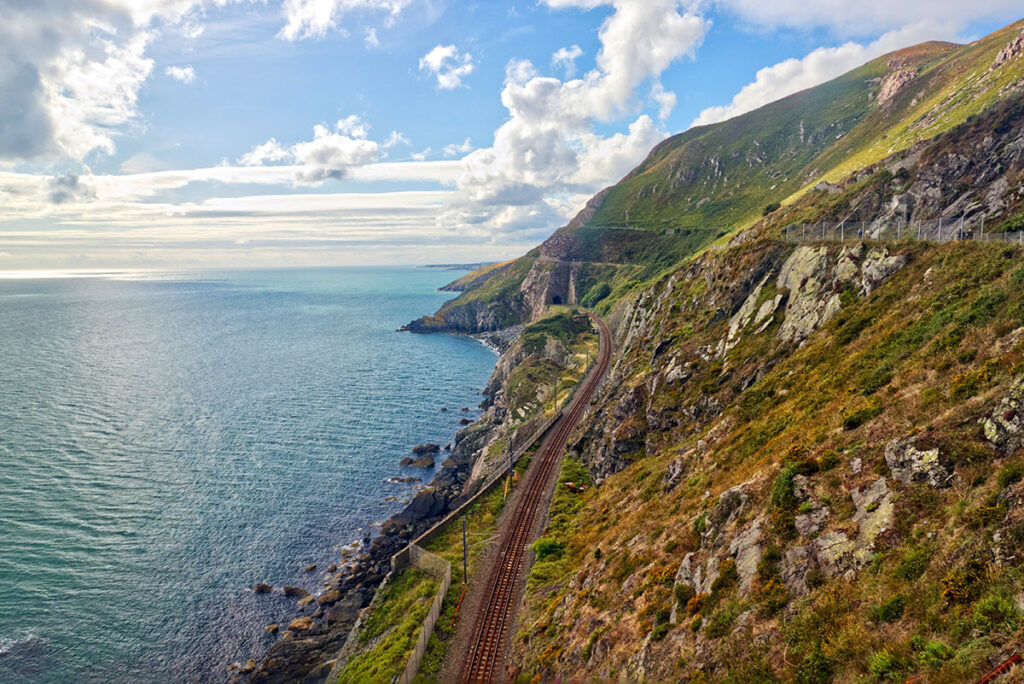 The Greystones cliff walk, as it is also known, is the most rugged coastline and yet easily accessible nature path from Dublin. If you want to venture further into Wicklow, there is the Wicklow Mountains National Park that has many more paths and peaks to explore.
No matter which scenic walk in Dublin you choose, it will surely impress. Dublin is a beautiful historical city set along a beautiful bay and full of quirky and fun places to stop. Explore more outdoor adventures in the posts below!
Liked this post? Pin it for later!