Top Ten Things to do in Lauterbrunnen Switzerland
Why visit the Lauterbrunnen Valley?
Some say that the Lauterbrunnen valley is the most beautiful place in the world. The village of Lauterbrunnen is a traditional and quaint area that is surrounded by an idyllic natural landscape. The valley was carved by glaciers millions of years ago and has left a river running through steep cliffs now covered in waterfalls with the snow capped swiss alps in the background. This area is known to have inspired many artists and writers, including Tolkien to write lord of the rings and it is easy to see why. Lauterbrunnen is the perfect destination for a scenic day trip from any major swiss city, and a good place to explore the mountains and hiking trails further. These are the top ten things to do in Lauterbrunnen Switzerland.
How to get to Lauterbrunnen?
You can easily get to Lauterbrunnen from any train station in Switzerland. Travel time will vary between 1-3 hours depending where you are starting from, but it is possible to see in a day and the train ride is also beautiful. Driving from Geneva, Zurich or Basel is a little quicker than the train but not nearly as scenic!
Lauterbrunnen is in the canton of Bern, and the Jungfrau region. It takes 20 minutes by train from Interlaken to Lauterbrunnen, which is the closest urban area. It is important to remember that Swiss travel passes are not valid beyond Interlaken so you will need to buy an additional ticket. If you are going to stay in Lauterbrunnen or the area for a few days, it is worth it to buy the Jungfrau Travel pass which will get you on to all the cable cars, trains and buses for free.
Top ten things to do in Lauterbrunnen Switzerland
Lauterbrunnen is a must see in Switzerland summer time, it epitomizes all things Swiss but on a much smaller scale that makes it more approachable and a better experience. Here are the top ten things to do in Lauterbrunnen, one of Switzerland's most famous places.
1. Staubbach Falls
The Lauterbrunnen valley has over 72 waterfalls, but this one is the most impressive at nearly 300m high, and it is only a 12 minute walk from the railway station. The name means dust as the wind blows the falling water into dust as it flows down the cliff face. This is the most popular thing to see and do in Lauterbrunnen but it doesn't take very long, so you have the rest of the day to explore the mountains.
2. Walk to Stechelberg
If you are into waterfalls, you just have to keep walking past the Staubbach Falls in order to see more and more. You can walk or rent a bike along a 4km (mostly car free) road, which is the most scenic activity to do in Lauterbrunnen. You will see lots of waterfalls, all the cliff faces, cows and sheep, cheese vending machines and probably some people parachuting down after paragliding or base jumping. The walk only takes an hour, but can easily last longer because you will want to stop for so many photos, and you can take the bus back from Stechelberg.
3. Go Hiking
As Lauterbrunnen is surrounded by tons of amazing hiking trails, there is one for every level. But there are two that are very rewarding without much effort that offer amazing views of the alps. 
First is the Panoramaweg (Panorama Path) from the top of the Grutschalp cable car to Murren. This route has a further two options, the lower road is flat and takes an hour. You can even push a stroller or buggy along it's incredible views. Otherwise you can take the hiking path that takes 2 hours and it is still relatively easy, just with a few more rolling hills and also finishes in Murren. Both routes offer unbelievable views of the Jungfrau mountain and can detour through the flower garden of Allmendhubel.
Second is hiking from Stechelberg to Gimmelwald and Murren. Gimmelwald is the cutest little village about halfway up the valley. It takes about 1 hour from Stechelberg to Gimmelwald but covers 500 vertical meters, so it is a lot of uphill as you are essentially climbing up and out of the valley. Gimmelwald has some nice places to stop for lunch and if you are too tired to carry on hiking another hour to Murren, you can always catch the cable car. This is a nice hike to do as you get to see the valley from a different perspective and you cross along waterfalls and through the forest before seeing Gimmelwald which most people don't bother to visit. 
4. Take the cable car to Schilthorn and piz Gloria
One of the main viewpoints around Lauterbrunnen is the highest accessible point, Piz Gloria. It has a rotating restaurant with an all you can eat brunch and a James Bond themed area as they filmed one of the movies up here. From Piz Gloria, you can see endless mountain peaks and a feeling for the Swiss alps. It will be about 10 degrees colder so bring a jacket. The cable car station is called Schilthorn after the name of the mountain peak, and you can easily get there from Lauterbrunnen by cable car, train cable car, but you can break it up by hiking to Murren, or the whole way – although this will take all day!
5. Visit Wengen, Kleine Scheidegg and the Top of Europe
Why not visit the highest train station in Europe while you are so close? Traveling up the other side of the valley, you can take a train through Wengen and Kleine Scheidegg, to continue all the way up to the Jungfraujoch. Wengen is a nice spot to stop on the way back down for a drink overlooking the valley, while Kleine Scheidegg you can stop on the way up to break up the journey with lunch on a nice terrace overlooking Grindelwald. The Jungfraujoch is a saddle in between the Jungfrau mountain and the Monch mountain that has been accessible by train for nearly 100 years. There is a fun park that has activities for kids as well as various lookout points so you can clearly see the glaciers. Definitely worth a trip, but make sure it is good weather to see all the spectacular views. 
6. Go paragliding
If you aren't afraid of heights and looking for a little more adrenaline during your trip to Lauterbrunnen, this is the perfect time to try paragliding. It is not as fast as bungee jumping or skydiving but you still have to run off a mountain and be ok with a little turbulence. After that you get to cruise around for 20 minutes with your tandem pilot enjoying the swiss alps and thermals that bring you high into the sky and eventually back down into the valley. 
7. Trümmelbach Falls
If you haven't seen enough waterfalls, why not see one inside the mountain? By visiting Trummelbach falls, you will be exploring the inside of a cave as the glacier water crashes down in between the rockface. The path takes you deep inside the mountain and up to various levels, weaving inside and out to witness the waterfall in all its glory. Trümmelbach can also be done on a rainy day in Lauterbrunnen as you will probably get a little wet already!
8. Go camping
There are many nice places to stay in Lauterbrunnen, but the camping Jungfrau is probably the most scenic campsite in Switzerland if not Europe. From here you can say that you have been camping in the swiss alps and wake up to its incredible scenery. It is also a much cheaper option than staying in hotels. They have tents, camper vans and trailers to rent, and the grounds sit beside the river just 15 minutes walk outside of Lauterbrunnen. Just be sure to reserve a place well in advance because it is one of the most popular campsites in Europe!
9. See how Swiss cheese is made
For a different type of cultural activity, a visit to the Schiltalp Cheese Farm is a traditional way to spend your morning. This is a small tour that walks you through the cheese farm and shows you the whole cheese making process, ending in a breakfast. There is a bit of walking so dress as if going for a hike, and you will need to book the evening before as it begins at 7.45am in Murren. 
10. Do a Via Ferrata
TheVia Ferrata (Iron Way in Italian) or Klettersteig in German is a hiking/ climbing route that you wear a harness and are clipped into a metal cable. The route is a mixture between rock climbing and hiking but is furnished with ladders, steps, bridges and walkways, so you don't need any more skill than hiking, just a hard stomach for heights. There are Via Ferratas all over Europe in the mountainous areas, and this one above Lauterbrunnen finishes in Murren that takes about 2 hours. Everything is completely safe, and you can even hire a mountain guide if that makes you feel better, but otherwise you can rent equipment at any one of the local sports shops.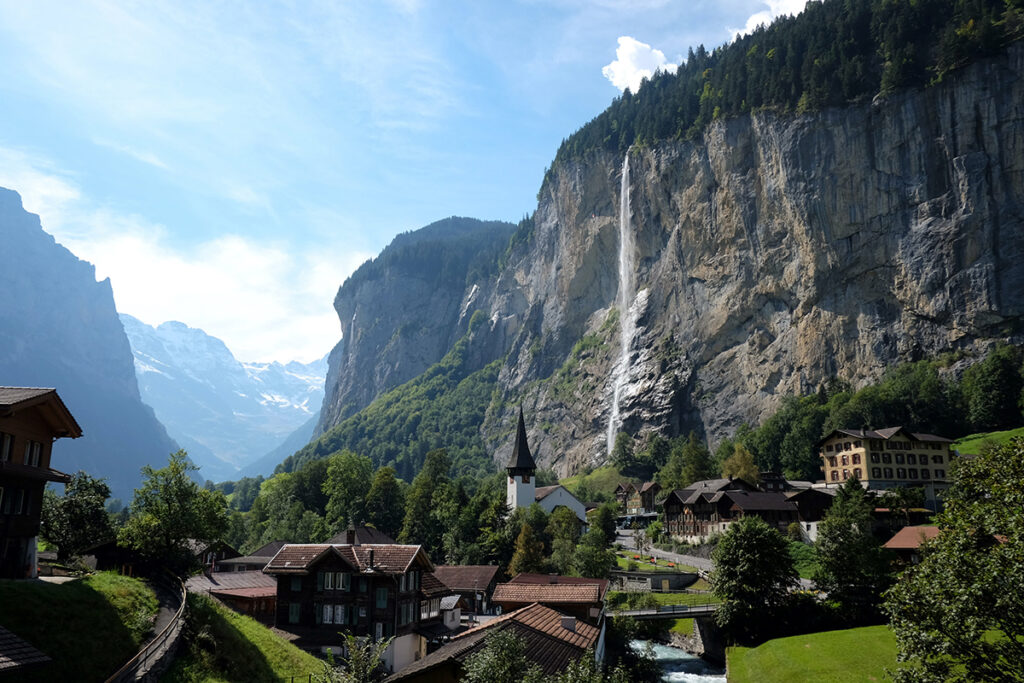 Top places to stay in Lauterbrunnen
Many Switzerland hotels are very traditional with decor dating back hundreds of years and menus that haven't changed since opening. However more comfortable and modern stays are available as well as something for every budget.
The most affordable options are the Camping Jungfrau (book way in advance) and the Valley hostel. However the Alpine Base Hostel is new with lots of space and activities on site and a hotspot for base jumpers so you are bound to meet some interesting people.
After that there are plenty of hotels to choose from, but the Hotel Oberland is the most respected and comfortable with traditional Swiss charm and a nice terrace to enjoy lunch or dinner right on Lauterbrunnen's main street.
There are also a selection of Airbnb's in Lauterbrunnen that are great for larger groups, but as it is a small village these can often be booked much in advance.
Best places to eat and drink in Lauterbrunnen
Cafe Oberland also has a delicious menu to choose from and will be full most days at lunch. They have all the traditional swiss dishes as well as some modern plates to serve everyone for a good price. They are the best restaurant on the main street in Lauterbrunnen.
Airtime Cafe is a good spot for lunch or coffee. They have a great selection of homemade baked goods, along with soups and sandwiches everyday, many available for takeaway if you are hiking. This is the go to place if you are vegan or vegetarian as they have great coffee with lots of milk options and gluten free and vegan food options.
The Horner Pub has a small food menu, which includes classic pub food but also a few Swiss favourites. However you come here more for the beer and the company than the food as it is a favourite among locals and base jumpers. Don't be surprised to find some farmers having some alpenmacaroni and drinks next to you.
Lauterbrunnen Switzerland Travel Tips
1. Get the Jungfrau Travel Pass – All the trains, cable cars and buses add up, and if you are spending more than a day in Lauterbrunnen to see all the sights, this travel pass will save you money.
2. Check what events are on – Throughout the summer, Lauterbrunnen and the surrounding villages host a number of local events hosted by the tourist board. These range from cow beauty contests, yodeling competitions, outdoor movies and cheese festivals. Timing your visit with one of these will make your stay all the more enjoyable, or check in with the tourism office to see if anything is on.
3. Bring Layers – The summers in Switzerland can be wonderfully sunny, but when you are hiking up the mountains or visiting the Top of Europe the temperature can drastically drop. Bring an extra sweater or rain jacket to stay warm.
4. Visit the Horner Pub  – I always like to get to feel like a local wherever I go and this place is the best spot to meet some locals in Lauterbrunnen. It is a regular spot for base jumpers, farmers and local swiss, and is a little bit away from the main street so you can escape some of the tourists.
As you can see Lauterbrunnen is the perfect place to visit during summer in Switzerland. There are endless activities that you can do which take you right up into the alps as well as experiencing traditional Swiss life. You can explore the surrounding villages and go on endless hikes among the Swiss Alps. Even if you come across a tour bus or a bit of rain, these top ten things to do in Lauterbrunnen Switzerland will be a tick on your bucket list. 
Like this article? Pin it for later!
Read more about things to do in Switzerland;