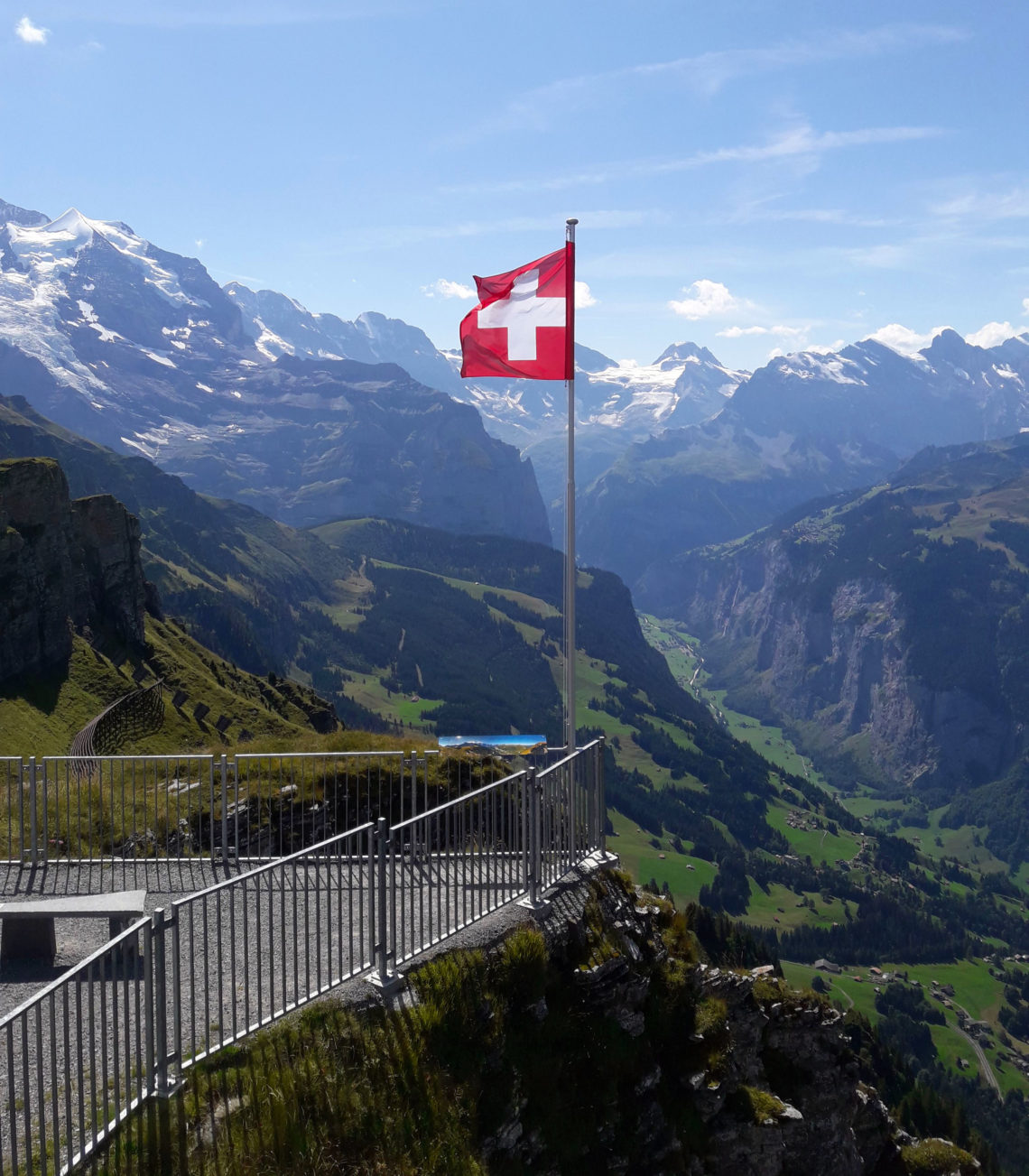 Hiking Lauterbrunnen Valley – The 10 Best Hikes
Switzerland is a hikers paradise, and the Lauterbrunnen Valley in the Bernese Oberland is one of the most scenic areas. This small valley is a hub for skiers in the winter, but in summer time, hiking is the best way to see the Alps of the Jungfrau region. There are over 80 waterfalls, snow capped mountains in every direction, glacier lakes and numerous mountain huts along the way. And with a hiking routes for everyone, these are the ten best around the valley! 

I spent a summer exploring as many different Lauterbrunnen hikes as I could find, long short, easy hard, steep and scary. This list aims to explain some of the best hiking trails in the alps with rating various factors. As well as the routes are marked, there is limited information about them before you set off. They give approximate times that it takes but these are more for the experienced Swiss person. I am fit enough, but don't yet have the decades of alpine air in my lungs or legs quite yet. 

Another factor that slowed me down was how gosh darn scenic it is around every turn. Having a phone or a camera in my hand definitely distracted me enough to add time to my hike. Each route was quite different, varying in length, difficulty, terrain and traffic. This list is meant to help you understand each route before you set off, and how to choose the right hike for what you are looking for. I would suggest to bring a good pair of hiking shoes so that you don't slip, and hiking poles that really help with going downhill.

The hikes are listed in the order of my favourites. I have rated them out of 10, even though it is difficult not to give them all a perfect score. Each route explains the incline since some felt like they only went up and definitely needed hiking poles, while others seemed like a walk in the park. The last feature I describe is the views that you will get, but once again you won't be disappointed anywhere in Switzerland.
| | | | | | |
| --- | --- | --- | --- | --- | --- |
| | Hike | Incline | Duration (hours) | Views | Overall Rating |
| 1 | First – Schynige Platte | Varies, can get steep but not too scary | 6+ | Amazing views of everywhere | 10 |
| 2 | Murren Panorama | Easy hills | 3 | Beautiful views of valley and Jungfrau | 8 |
| 3 | Stechelberg – Gimmelwald – Murren | Steep | 3 | Forest and views to valley | 8 |
| 4 | Lauterbrunnen – Lobhorn | Steep | 4 | Forest and views to valley | 9 |
| 5 | Brienz – Harder Kulm | Scary Steep | 8 | Amazing but scary | 10 |
| 6 | Wengen – Mettlenalp – Eiger Glacier | Easy, then steep | 4 | Valley from different perspective | 8 |
| 7 | Stechelberg – SchmadriHut | Steep | 4 | Forest and views to valley | 7 |
| 8 | Murren – Schilthorn Hut | Steep | 2 | Valley below | 7 |
| 9 | Wengen – Maanlichen – K. Schiedegg | Scary Steep, then Easy | 4 | Views to valley and Grindelwald | 8 |
| 10 | Lauterbrunnen Valley | Easy | 2 | Mountains above | 7 |
1. First to Schynige Platte Mega Hike
Distance: 16km
Duration: It took me 6 hours, which included lots of stops for pictures and snacks, as well as a cold beer at a mountain hut.
Incline: This route has everything. Some places are flat and easy while others were covered in snow, very steep or very rocky and crumbly which helped to have poles.
Views: Because this hike is so long, you really do see it all. It essentially links the ridges so you can see valleys on both sides, as well as walk through forests, beside a lake, along a ridge and through mountain passes.
This was actually my favourite hike, as it is quite long, you get all the views and Swiss experiences. Both ends of this trail can be hikes on their own if you are looking for something shorter, but they also get very busy. By hiking the whole trail, you can stop at mountain huts (and stay overnight if you want) and barely see other people. I hiked this route in early June and there was still snow and ice in some places. It is worthwhile to use hiking poles for these slippery areas.

Beginning at First, which is a lovely look out point in itself, you begin towards the glacier lake of Bachalpsee. This is a lake up on top of the mountain which is well worth a visit, and has an easy walking path to get there. After this you continue to climb over the ridge towards Faulhorn. This is where most people turn back, and the real hiking begins. You will see a lot less people and probably marmots. The trail is well marked and follows the ridge, but it is not too steep.

After a few more bends, you can see into different valleys and down to other mountain lakes. There is another mountain hut along the way called Berghütte Männdlenen. They have a restaurant as well as beds to stay if you want to break up the hike into two days. After this hut, you start to descend again along a rocky pathway. It leads to another valley with more trees and very little sign of life.

Upon nearing Schynige Platte, you have two options to get there. You can take a lower route in the valley, or a higher route along the ridge. I recommend staying along the ridge, so you can see the views of Brienzersee. Schynige Platte has a restaurant ready to reward you for the long day.

To get back home, there is a train from Schynige Platte that runs every half hour down to Wilderswil where you can connect to Interlaken or Lauterbrunnen. The train is one of the oldest in Switzerland, and is excruciatingly slow. It takes one hour to go a very short distance, and stops running around 5:30pm so be sure to catch the last train down, otherwise you have another hike ahead of you!
Overall Rating: 10

2. Murren Panorama Hike

Distance: 6km
Duration: 2-3 hours
Incline: This trail is quite leisurely, there are hills but not steep inclines.
Views: You are walking in the same direction the whole time, looking at the Jungfrau Peak. You see it from many different views of open fields, over the valley and within the forest.
This is a lovely half day hike. It begins in Grutschalp and you walk towards Murren with the view of the Jungfrau ahead of you most of the time. There are actually two options you can take. The first is a paved pathway that nearly follows the train that you could take to Murren. This is good if you have any kids or want to take a stroller on your walk.

Otherwise, the hiking trail follows the same direction, but goes up into the forest and along a higher altitude with better views. It takes you up and around through some woods, and out along a large opening that feels like you are on the edge of the world. You may see other hikers along this route as it is a good beginner route and still has great scenery.

Afterwards you come down into the winter ski area, where there are a few chalets that are open for lunch in the summertime. Allmenhubel has a playground and flower garden for children, and has a small funicular that takes you down to Murren (at the right time of year). While Sonnenberg has a lovely terrace in the sun, serving traditional fare. After these points, Murren is not far where you will find lots of restaurants and hotels overlooking the valley.
Overall Rating: 8

3. Stechelberg to Gimmelwald to Murren

Distance: 6km
Duration: 2-3 hours
Incline: The first half of this route goes straight up, not in a scary way but you will be out of breath. Then it eases up once you reach gimmelwald.
Views: You begin in the valley, so the views get better as you climb. Parts are in the forest, but you pass a waterfall and see a different side of the valley, not visible from other areas.
For this hike, you begin in the base of the valley and climb up through the forest. It is lovely to see the valley from this end as you hike around waterfalls and streams. About half the hike takes you directly up, before cutting over towards Gimmelwald. This is a cute little village with picturesque gardens and chalets if you want to stay overnight.

The trail can be difficult to see as it veers into some grassy areas on the way to Murren. There is also a cable car at this point in case you are tired of walking, but it does get easier after the village. As you near Murren, remember to look back as you are now beyond the valley and much closer to the enormous alps beyond. The views are fantastic and there is a nice restaurant overlooking the mountains as you arrive.
Overall Rating: 8

4. Lauterbrunnen to Lobhornhutte Hike

Distance: 10km
Duration: 4 up, 3 down
Incline: Mostly pretty steep
Views: Beautiful views of the mountains as you climb into different clearings, and then a magnificent view of the whole valley once you reach the top.
This was one of my favourite hikes. As it is really just a climb to the top of the Lobhorn peak, you get a sense of accomplishment from the top. The only thing is that unless you booked a bed at the Lobhornhutte, you will have to walk back down. Most likely after a heavy swiss lunch and a few beers.

I began from the train station in Lauterbrunnen, but you can take a short cut with a bus to Isenfluh. Once in Isenfluh, I took a tiny 4 person gondola up to Sulwald. You can hike the whole thing but it is very steep in the forest and I prefer to save me energy for more scenic areas. Once in Sulwald, there are still a few hours hiking through beautiful nature to go. You come upon a glacier stream and then follow a rocky path up to the Lobhornhutte.

The Lobhornhutte is the only restaurant and accommodations around. It serves typical swiss cuisine and has beds for the evening but you should book well in advance, since this is a popular spot. I just stopped for lunch and a small nap then made my way back down to get the gondola at Grutschalp. It is not as far to the gondola as coming up, it took just over 2 hours, but the view is not as scenic. You go through mostly forest with a few clearings. But after the long hike up, this is a pleasant route to take you back down.

Overall Rating: 9

5. Brienzer Rothorn to Harder Kulm

Distance: 20km
Duration: 8 hours
Incline: the trail itself is not too steep, but it drops off on either side which makes it incredibly scary
Views: You can see everything from this high ridge walk.
So this ridge walk is just on the other side of Lake Brienz. You begin by getting up to Brienzer Rothorn, which can be a mission in itself with all the trains you have to take. And you finish the hike in Harder Kulm, overlooking Interlaken. Each of these points are amazing attractions in themselves, and hiking the ridge between them is equally rewarding. However it is quite long (nearly 20km) and very scary. I attempted it from both ends and got too scared to continue!

You have to be an experienced hiker to do this one. As it can be quite technical, dangerous and you have to complete it before it gets too dark and the train stops running from Harder Kulm. That being said, it was still one of my favourites. You are above the clouds and there are barely any others around.

If you do begin this hike from either end, there are a few exit points along the way that take you down to the lake where you can catch a bus or train back to Interlaken. You can also just begin this hike in Brienz up to Brienzer Rothorn, or in Ringgenberg up to Harder Kulm.
Overall Rating: 10

6. Wengen to Mettlenalp to Eiger Glacier

Distance: 10km
Duration: 4 hours
Incline: It starts off quite easy and gets quite steep near the end
Views: Lovely views of the valley, then through the forest, and eventually up close and personal with the alps
This hike takes you a lot closer to the base of the Jungfrau than the others. It begins in Wengen, with spectacular views into the valley, and continues up the winter ski slopes. There are a few restaurants along the way, but it's best to keep going and be rewarded at the top with the best views. 

It brings you into the forest, and opens up into alpine fields where cows graze in Mettlenalp. After continuing past Wengenalp and the Wixi ski lift, you begin the climb. As you climb up towards Eigerglestcher, looking back you can see directly to the valley floor. It is rocky and grassy and at the top has a whole different landscape where barely anything can grow.

From this route, you get a sense of scale for the Jungfrau, Monch and Eiger mountains. It can be very steep as it zigzags up the slope but it is not so dangerous.Once up at Eigergletcher, there is a restaurant with a terrace and traditional food. From here there is a short walk down to Kleine Scheidegg where there are more restaurants to choose from, and also the train back down to Wengen. However if you still have some energy, you can choose to walk down a wider trail back to Wengen, that takes about 2 hours.
Overall Rating: 8

7. Stechelberg to Schmadrihutte Overnight Hike

Distance: 8km
Duration: 4 hours
Incline: mostly up
Views: Valley views, waterfalls, glacier views and other mountain ranges
This hike is different from the rest, as it takes you to a Swiss mountain hut. You will have to book a bed ahead of time and carry up some dinner and snacks. The hut has cooking utensils and stove, but there is nobody working here.

The hike begins at the end of the Lauterbrunnen valley in Stechelberg, and takes you up through the forest and towards a different mountain range. It crosses rivers, waterfalls, farms and open views to the valley, and finishes overlooking a glacier.

The hike is pretty much up all the way but you can take your time as there won't be many others on the route. It is well marked and very beautiful. It will be cold at the top so bring some warm clothes to sleep in and for the morning. There are blankets in the hut. The more difficult portion is hiking back down the same way the following day. It goes much quicker but it can be hard on your knees, so it is best to bring some hiking poles.

This is just one of many huts that offer a kitchen and accommodations without anyone living there. You may not be the only guest, but they are generally small so its quite possible you will have it all to yourself. It is an honour system of paying, and you just leave cash in the box and clean up after yourself. This type of hike is truly special as a typical Swiss experience, so remember to sign the guest book!
Overall Rating: 7

8. Murren to Schilthorn Hike

Distance: 7km
Duration: 3 hours
Incline: mostly up
Views: Schilthorn and surrounding peaks, valleys and clearings between forests
Hiking up to Schilthorn is not as terrible as it sounds. It is mostly up, but it is well worth it once you get to the top. The view of surrounding mountain peaks in incredible and there is a rotating restaurant to help you take it all in. It is quite busy at the top, as the gondola takes you there from Murren, but it also means that you don't have to walk back down.
Overall Rating: 7

9. Wengen to Männlichen to Kleine Scheidegg

Distance: 10km
Duration: 4 hours
Incline: Very steep at first then gradual and easy
Views: Views of the Lauterbrunnen valley and then over to Grindelwald
Many people do the walk from Maanlichen to Kleine Sheidegg, but that is a gradual downhill walk. It is a wide enough pathway and offers lovely views down the winter ski slopes towards Grindelwald. However, if you want to make this more interesting and a bit longer, you can start in Wengen and hike up to Maanlichen first, taking in amazing views and testing your fear of heights.

It takes about 2 hours to get up from Wengen, after which point you can take a break to enjoy the view, go up to the royal lookout, have a Swiss drink and then continue towards Kleine Scheidegg. This part of the path is quite pleasant, winding along the mountainside. It leaves you at the train station where you can get back down to either Grindelwald or Wengen and Lauterbrunnen.
Overall Rating: 8

10. The Lauterbrunnen Valley Floor

Distance: 4km
Duration: 3 hours
Incline: generally flat
Views: Views up from valley, waterfalls, cows and farmland
This might not count as a hike for Swiss people, but it is an incredibly scenic walk for those not capable of hiking mountains all day or that might have a larger group or young family. From Lauterbrunnen, walking to Stechelberg is about 4km along the valley floor. You can see how high the mountains go up all around you while seeing the Swiss cows and multiple waterfalls, including the Staubbachfalls. There is even a vending machine along the way selling local cheese and meats.

You can turn back at any point or take the bus back from Stechelberg, for a shorter walk. Or head over to trummelbach falls afterwards to see glacier water shooting through rackfaces and crevices of the valley walls. Even though this is a more of a leisurely stroll, it is certainly worth walking or biking if you are not going to do any other hikes.
Overall Rating: 7

So those are my ten best hikes of the Lauterbrunnen valley. As you can tell, I enjoy the longer more challenging routes. Mostly because I can justify having a huge fondue afterwards. But any hike around the Lauterbrunnen valley is sure to be amazing. And if you have enough time, definitely try to stay overnight in a Swiss mountain hut to get the full experience.
Please let me know which one is your favourite or if there are any other routes that you think should be included here!
Continue reading about Switzerland