What to do in Wengen Switzerland
No trip to Switzerland is complete without a visit to the Bernese Oberland. This is where you will find the snow capped alps, glacier lakes and incredible scenery that Switzerland is known for and Wengen sits at the center of it. This article is a small travel guide that lets you know of the best things to do Wengen Bern.
Wengen is a picturesque small village in this Jungfrau region of the Alps, with tons of outdoor activities all year round. You can escape the typical tourist area of Interlaken by staying in Wengen and exploring the surrounding villages and scenery from your hotel.
Coming to Wengen for a weekend getaway or just a day trip is well worth it to see the best views in Switzerland. Here are the best things to do in Wengen, to maximize everything it has to offer. Activities in Wengen are broken down into summer and winter depending on which time of year you go.
Wengen Switzerland Summer
1. Go for a walk
There are many scenic viewpoints in wengen village that are not so far from town and not intensive to reach. From Wengen you have amazing views of the Lauterbrunnen valley and the Swiss alps. See here for a list of the most instagrammable spots in wengen.
2. Go for a hike
As any swiss person knows, a hike is very different from a walk. Hiking in Switzerland consists of multiple hours up an intermittently marked trail and usually up a consistently steep slope of the Bernese Alps. A hike to Kleine scheidegg (2hrs), Eigergletscher(3.5hrs) or Maanlichen (2.5hrs) are all well worth it with amazing views and a great sense of accomplishment. See the best hiking trails in the area here
3. Go Mountain Karting
In the summertime there are mountain karts available to ride down the mountain from Maanlichen to Grindelwald. They are sort of like a turbo tricycle with amazing breaks and are a great way to explore the landscape. It costs 19chf and the route follows a paved path for about 10km which varies in time depending how fast you go!
4. Have a BBQ picnic in Wengen
Not many people know that around Wengen and many villages in Switzerland, the tourism board prepares BBQ sites free for anyone to use. These are equipped with a large fire pit, grill, bins, a picnic table and a storage of wood, so all you have to bring is your food and drinks. There are multiple BBQ sites around Wengen that offer different views, see this map to check them all out.
5. Maanlichen Royal Walk
The cable car in Wengen takes you to the top of Maanlichen peak. In winter it takes up skiers, but in summer, it offers hikers a head start or leg up to begin your hike at the top, and also has a short walk to a royal lookout point. For an extra 5chf you can stand on the roof of the gondola as it rises through the clouds.
6. Mini golf, tennis, chess, rope walk in Wengen
Finally there are a few activities right in the center of town for those waiting for friends or with families near the railway station. The tourist office in Wengen manages the adjacent tennis courts and mini golf activities while just in front you will find a large chess board and tight rope walk that anyone can use.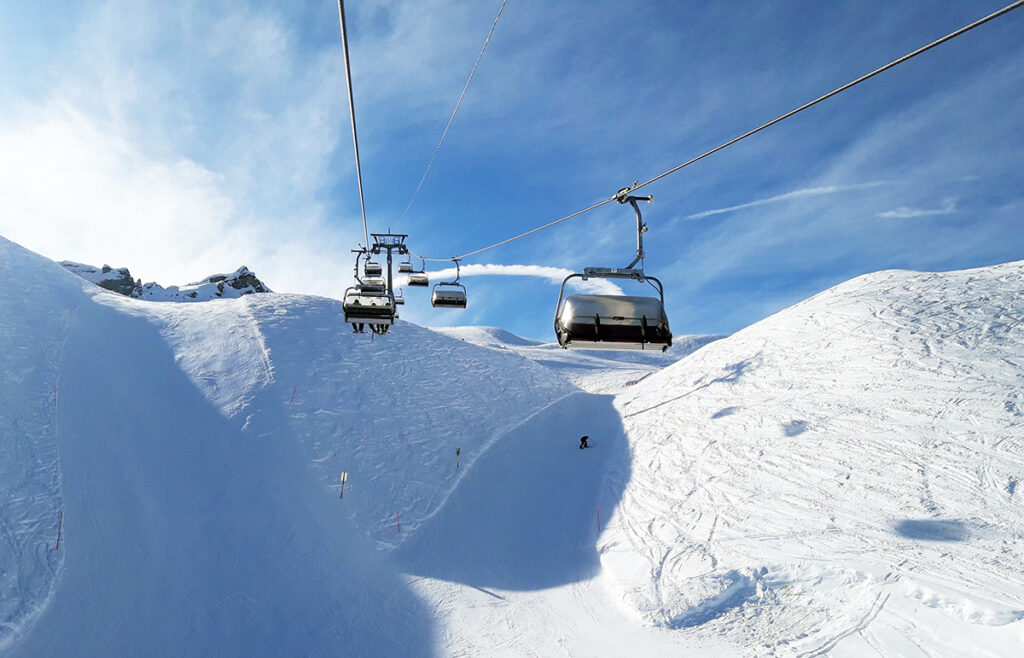 Wengen Switzerland Winter Activities
7. Ski or snowboard
The town of Wengen grew because of the amazing skiing, and still hosts the longest world cup race in the FIS. All winter the slopes are ready for every level of snowboarding or skiing.
8. Rent a Sledge in Wengen
Sledging is a traditional Swiss activity that has specific routes. The sledge is a specific type of sled, traditionally made from wood, but now you will find lightweight metal sledges that are built for speed. Take the train to the top of Eigergletscher and sledge back to Wengen stopping at chalets for lunch or a drink.
9. Go Curling in Wengen
Curling in Wengen used to be very popular as it hosted many competitive events. It's more of a secondary sport after skiing but the rinks and equipment are still top notch. Rent a lane by the hour and invite some friends for a bad weather activity.
10. Try Skating in Wengen
Wengen also has an outdoor skating rink open all winter. The ice rink is open every day from 10am – 6pm and is run by the tourist office located right next door. Sometimes it is also open in the evening for hockey and family skating depending on the weather.
11. Wengen Happy hour
Don't forget about the apres-ski, even if you don't ski. People gather in the town's bars every afternoon for the traditional post skiing drink or two. Those that get too excited can be spotted dancing in their ski boots well into the night. read more about Swiss drinks here.
12. Fondue in a hut
Wengen has a few huts that serve fondue or raclette to private parties. Anywhere from 2-12 people can book in advance and hike or sledge to the hut for a traditional Swiss meal and then try to navigate home in the dark after a few schnapps.
Day Trips from Wengen Switzerland
13. Take the train to Jungfraujoch
Many people travel to Switzerland solely to visit the highest train station in Europe and see the glaciers for themselves. The Jungfraujoch is the saddle in between the Jungfrau and the Monch mountain peaks, and offers a magnificient view from 4000m.
14. Visit Lauterbrunnen and Murren
Lauterbrunnen is easy to get to and then it is just a cable car to Murren, but does take a bit of time, so they are great day trips that you can incorporate into a hike or scenic lunch. Schilthorn is the highest point above Murren and is known for the James Bond movie. It has a rotating restaurant that serves a great brunch and of course has all the best views!
15. Explore Grindelwald
Take the train over to Grindelwald and try some more extreme activities. Grindelwald has many thrill sports among it's traditional looking Swiss village, as well as some great terraces with views for lunch.
As you can see Wengen is a great spot to explore the Swiss Alps and too scenic too miss when visiting Switzerland. There are an endless amount of activities for any outdoor adventurer and a handful of things to do on rainy days.
Continue reading about things to do in Switzerland below, and happy travels!
Like this article? Pin it for Later!