Most places I visit, I don't often drive. My modes of transportation always varies but usually I am a passenger on a train or bus if I am not walking or cycling in the designated bike lane. In Phnom Penh I eventually realized that if tuktuk drivers don't understand your location, they just take you to where they think you want to go or where they want you want to go. This made me want to drive myself around and break my passerby pattern…. so I hired a moto (scooter) and then had to learn to drive again, this time like a local.
Cambodian Parking lot
First of all you have to get a Cambodian drivers license, which nobody does so I didn't either, good start! Rental agencies take your passport to ensure you bring it back and leave the legalities to the cops when they pull you over (
see my post about corruption
).
I am not sure if people here ever learn to drive or they just get behind the wheel one day, just like most 8 year old tuktuk drivers I see. Driving around Phnom Penh, the capital city, the average speed is about 20km/h even when there is no traffic on wide multi-lane divided roads. Based on the speed of travel, it seems like people do not know how to operate the vehicle, are too scared to go fast or just have no idea where they are going.
Surprisingly, this makes it a little easier for me to get around. Everyone drives very cautiously since there is not much right of way or signage, lights or traffic control. The only rule that I have picked up is that the larger your vehicle, the more priority you have, so stay out of their way as they expect you to.
It is a little difficult for me to accept this
free-for-all way of driving
, anything goes here. One-way roads are never
really
one way, there are always a couple people on the sides going in the wrong direction. Signs of no U turns and no parking are always the best places to do so, and if there are enough of you at a red light you can all proceed together (Power in numbers, just like
crossing the street in India
).
Parking is always an experience, without much designated areas, cars just overflow onto sidewalks and clog streets. At certain places they watch your bikes and move them around in order to fit as many as possible. There was a parking lot at my office building which you had to pay the guys twelve cents to watch your moto everyday, which was incredibly helpful since I could never find my bike in such a large mix of them, nor was I able to maneuver it out of such tight spaces.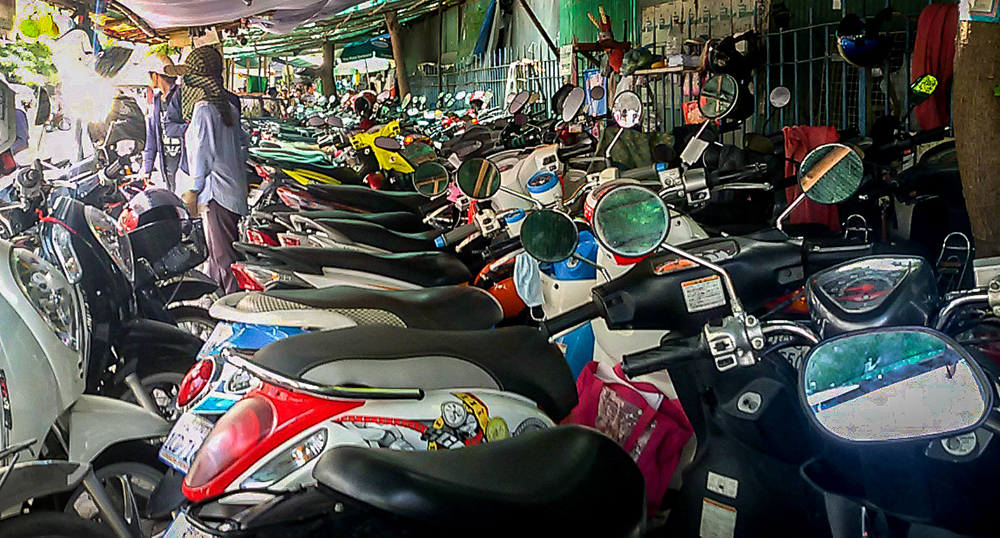 After visiting a market one day, I couldn't even find the parking lot where I had left my moto. I was sure I was in the correct location when luckily some guys saw me (and spoke to me in Khmer, which didnt work at all) then brought me over to where they moved my moto. The parking lot had since turned into a restaurant for the evening! Gotta watch out for those transforming parking lots I guess.
And finally the maintenance…. one of my tires went flat, never having seen a garage around town, I had no idea what to do or where to take it. I tried asking people on my way home from work that evening but most shops were closed, so I just barely made it home and the next morning asked my receptionist what to do. She said there is a mechanic on our corner…. What?!? How do I pass this corner twice a day and have never noticed it? They said it is only 100 meters away on the opposite side of the road. I guess they saw the confused look on my face because they offered to take me there. They were right, there was a mechanic on the corner, not a mechanic's shop as I would have been looking for, but a single guy sitting on the curb that fixes stuff. Amazing!! I was so excited, it only took 10 minutes and cost two dollars for a new tire. And of course, now that I know what mechanics look like I see them everywhere!
I guess it just takes some getting used to and knowing what to look for as a Cambodian driver. I love my little moto and being able to find my own way around, so far I have been lucky without any accidents, and hopefully it stays that way (especially since I am too afraid to drive at night!).