Best Things to See in Cambodia
What should you see in Cambodia?
If you are traveling South East Asia, put Cambodia on your list of countries to see! Even if you have never even heard of it before, this list will make you want to go. Cambodia is unlike other countries in South East Asia with a tragic history and bustling return underway to catch up to the modern world. The capital is fast becoming a metropolis while the rural areas haven't changed in a thousand years. The country is much less touristed than it's neighbors and the people are very friendly because of it. So whether you are passing through on your way to Vietnam or Thailand, or planning an exclusive trip, these are the places in Cambodia that you must see!
Only in Cambodia Things
Angkor Wat – Siem Reap

S21 & Killing Fields – Phnom Penh

Koh Rong – Boat from Sihanoukville
However, if you plan on staying in Cambodia longer than a day or two and want to visit each town for a few days, here are the top things you should see and do in the most popular destinations. Ideally you could spend a week to 10 days and see all the major sights as well as experience the jungle and islands. For an introduction to travel in Cambodia see here, below are the top things to see in each location.
1. Phnom Penh
The capital city of Phnom Penh is unlike anywhere else in Cambodia as it is growing into a metropolis while the rest of the country is still rural. It is nowhere near the likes of Bangkok or Hanoi but still worth experiencing the international cuisine, vibrant nightlife and affordable luxuries alongside it's more grim historical landmarks before heading off into the more remote areas.
S21 & Killing Fields – get the genocide over and done with in a day

Royal Palace, National Museum & Riverside Promenade – you can do this in an afternoon, then go around the corner for noodle soup

Russian or Central Market – get lost in the maze of souvenirs

Silk Island – Get out of the city and see weaving, rent a tuktuk

Architecture or food tour
2. Siem Reap
The temples of Angkor are the top thing to see in Cambodia. There are hundreds scattered over the landscape, but none as big or impressive as Angkor Wat. You can easily rent a tuktuk or motorbike to tour around many on your own, but visiting the Angkor Wat is a must. Siem Reap has grown around the temple's tourism and is a common stop on the backpacker route.
Angkor Wat – most popular tourist destination in the world now, sunrise is overrated but good to start early to avoid the heat

Phare Cambodian Circus – Cambodia's version of cirque de soleil

Angkor Artisans Village – market of handmade art and goods

Day trip to floating villages, or take the boat (6 hours) to PP and see them on the way
3. Kampot
Kampot is a sleepy river town often overlooked on the tourist route, but worth a stop see normal Cambodian life and explore nature and enjoy the food
Bokor Mountain – rent a motorbike to drive up to the old hill station or casino oddity (1 hour away)

Fish Market, Rikitikitavi, Atelier – fresh local cuisine on the waterfront

Sunset boat tour – usually for 5$ and takes you to see the fireflies at dusk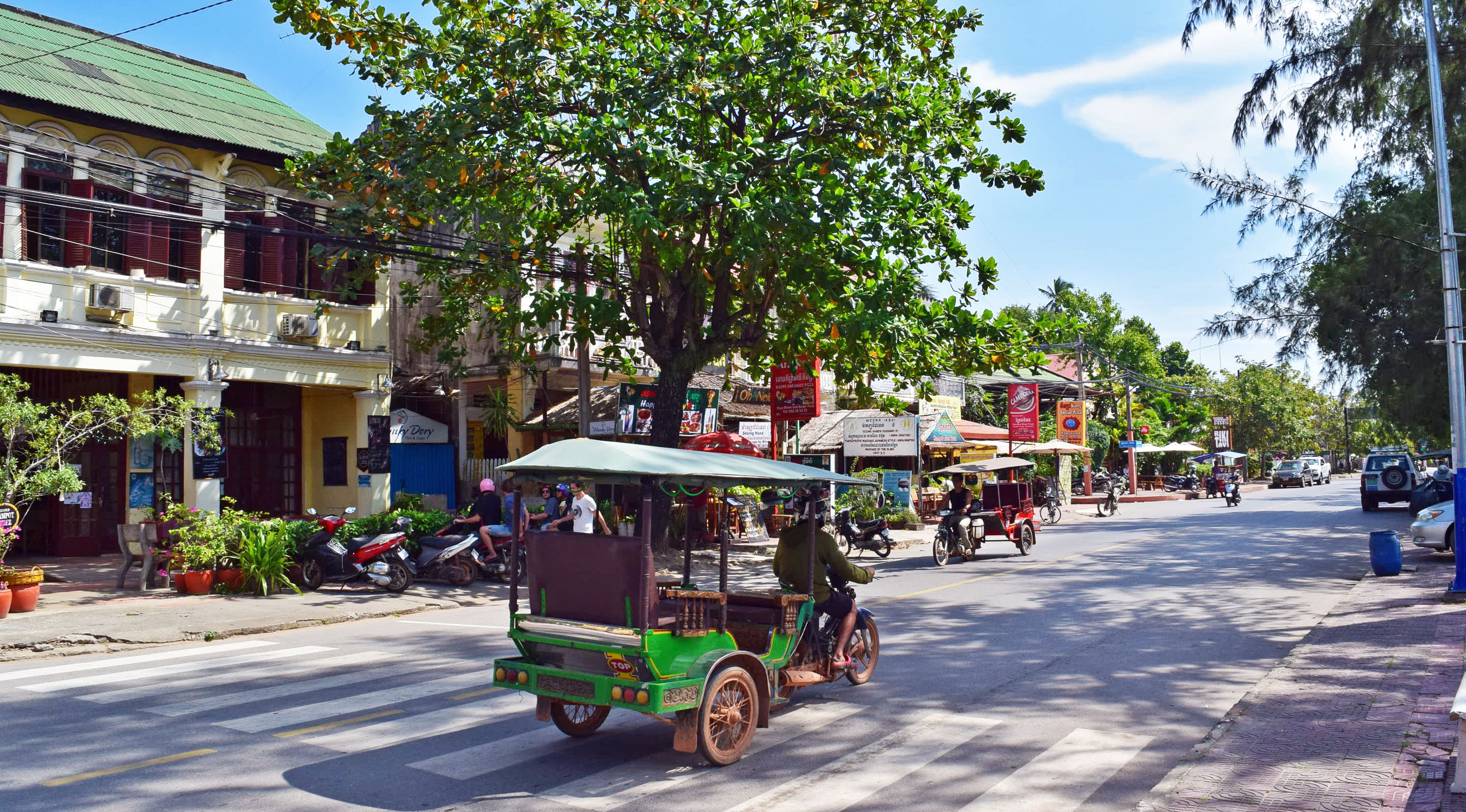 4. Sihanoukville & The Islands
Sihanoukville is the original Cambodian beach town but is not as good as Thailand. However the islands and beaches nearby are stunning and all along this coast you can find the glow in the dark algae if it is dark enough.
Koh Rong Samloem – small quiet island that shuts down around 11pm but very beautiful

Five Mile Beach / Long Beach – long stretch of white sand on the back side of Koh rong, where htey filmed the Cambodian "Survivor" mostly just little huts but also has a nice resort

Otres 2 – further out of Sihanoukville, there are long stretches of white sand beaches called Otres and Otres 2, the further out you get the less touristy it is
Everywhere in Cambodia Things
Get cheap massages

Rent motorbikes

Happy hour sunsets on rooftop bars
Hopefully that gives you an overview of what there is to do and see and experience in Cambodia. If you are on a tight schedule or don't have much time, these attractions will give you the full Cambodian experience. Also check out the Cambodian Survival Guide before you go for general tips for travelers in the country.
Continue reading about Cambodia…