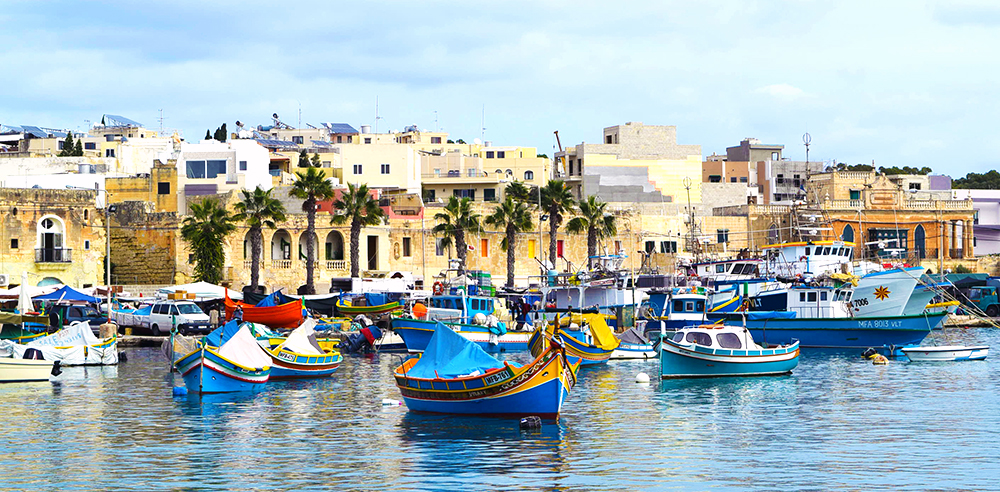 The Ideal Itinerary to Experience Malta
Malta is worth a visit anytime of year. In every aspect, it has layers of culture, activities and history that make it an interesting and varied destination. The landscape changes around every turn, the food is inspired from the best from surrounding regions and the culture is intense but caring. For the small islands that make up Malta, it is easy to cover in a short time, but to do it right in a short amount of time takes some strategy.
I spent nearly a month traveling around as much as possible while at the same time trying to get to know the neighborhoods that I stayed in. I spent a lot of time walking (and waiting) as well as researching what is worth visiting based on its impact on the world, my camera lens and what makes Malta what it is today. From this adventure, I now know how I would visit Malta so that I cover the best areas and attractions with the least amount of time and energy, and this article will help you do the same!
Why Malta?
First off, why would you go to Malta? I certainly didn't know anything about the place upon my departure, I was just escaping the winter, but Malta was a pleasant surprise. The mild and sunny weather is certainly one reason, as even in November I didn't need a jacket and the water was delightfully warm. Yet Malta is so much more than beaches and beautiful scenery, it is an ancient history of seafaring between North Africa and Europe and has many ruins and artifacts to prove it. There are structures older than the pyramids and the food is cheap, fresh and plentiful. The people are helpful and the pace of life is slow, perfect for a Mediterranean getaway. 
Malta consists of two main islands, Malta and Gozo, and a small uninhabited island in the middle called Comino. There is only about half a million people in all of Malta and the capital city of Valletta is the smallest in Europe. The main island has small cities but is still quite rural, whereas Gozo is smaller and sprinkled with hilltop villages. I suggest to stay around 5 days on Malta and 3 or 4 days on Gozo to explore the main sites on both. There is a short ferry between the two islands that runs regularly all year.
Transportation
Arriving into the only airport, I would immediately rent a car instead of taking the buses. The buses were quite frequent but overcrowded and indirect. Luckily I made friends with people that had cars which cut down a lot of my transportation time and didn't have to worry about directions. One of the best things about Malta is that it is incredibly small, and that you can drive from one end to the other in 30 minutes. The only catch is that they drive on the left side of the road like the English, but with the fire of the Italians, so be careful.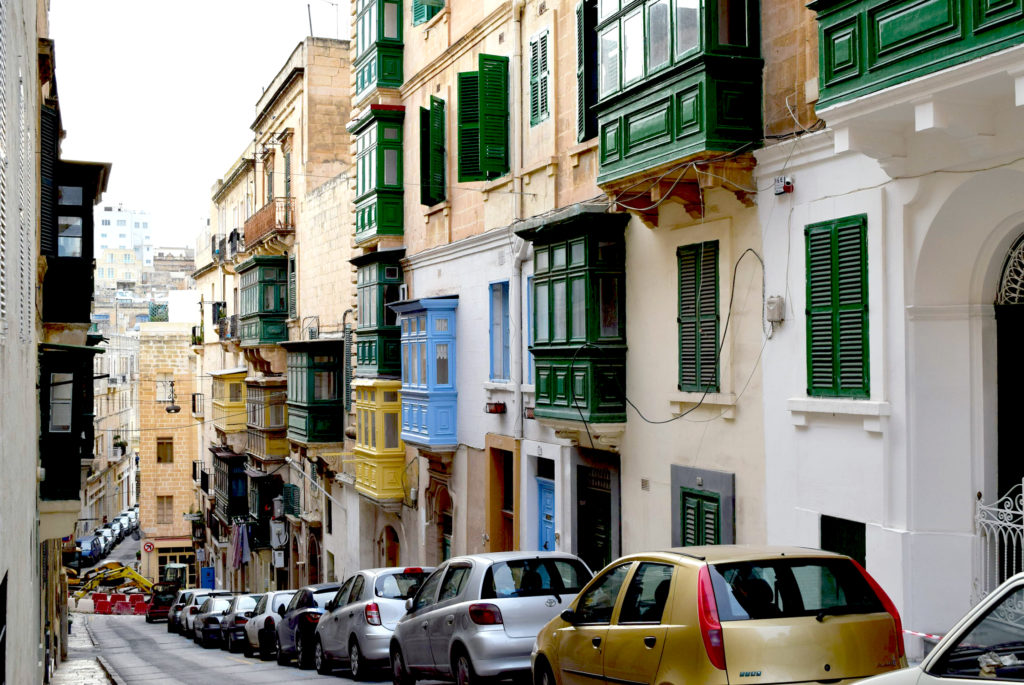 Accommodations
Malta has a history that dates back to early settlements of humans, so its no surprise that the buildings are easily centuries old. I stayed in a beautiful old limestone villa that was over 300 years old and would go back to do the same instead of staying in a new hotel. Living a place made from the local stone and wood and tile, that was built by hand and responds to the climate is a great way to be immersed in vernacular architecture. Airbnb is quite popular if you want a whole apartment or room for yourself but even the hotels do a good job of renovating the old structures and adding an infinity pool to overlook the view. 
Get a comfortable place to stay for 5 days or a week and as long as you have a car, it really doesn't matter where it is on the island. You can make day trips from where you are and avoid moving your luggage around too much. I would recommend somewhere on the North East of Malta, so that you are near the cities if you want to go out at night, and the West of Gozo so that you catch the sunsets! 
What to do and for how long?
Obviously this depends on your interests, you can spend all your time on the beach, rent a boat and see the islands, go hiking or stay in the city and visit museums and restaurants. But to do it all, you need roughly 7 days depending on how many sights you want to see and how tight you want to pack your schedule. I like to plan one activity a day so that I have lots of time to shop, eat and people watch (one of my favourite people to watch were the old ladies feeding the communal cats). Anyways, here's a brief itinerary of the activities I think give a holistic experience of Malta, not each point would take the whole day so you can pick and choose which ones to do in however much time you have.
1. Valletta
The capital deserves a day to explore even though it is quite small. Walk around the baroque streets, see the cathedral, the tiny museum in 30 minutes and sit down at a cafe or on the steps for a pastizzi. I even created the ideal route here! As the 2018 European city of culture, there will also be cultural events running almost every day during the year. Valletta also has the best selection of restaurants in around, so this is your chance to enjoy a rabbit stew, widow's soup or something international. During the evening there's usually a brass band playing for free at one of the halls on the main street, just walk in and order a Cisk.
2. Sliema
This suburb of the capital gives you a better sense of how people live everyday. Walk around the port to see the sailboats and this is also where all the tours leave for comino. Definitely take a cruise around the 3 cities or comino to get a sense of how small the island really is and see the island from the water. The further out from Valletta you get, the cheaper it is to eat and go out, St. Julian's is right beside that has lots of good restaurants and bars, but my favourite was a pizzeria in Sliema called Sciantusi. Please go here and send me pictures so that I can relive it!
3. Mdina
The ancient capital is a fortress of yellow limestone and a mixture of architectural styles that has been beautifully restored and now has lots of good restaurants and amazing views. After walking through the walled city and getting lunch on a terrace (I recommend the Fontanella for grape leaves or Coogi's for a full meal), continue walking down to the town and see the catacombs before dinner and drinks. There are lots of happy hour places in town and a handful of local restaurants to choose from, try one of the local cactus liqueurs for an aperitif!
4. Marsasloxx
Go here on a Sunday for the market, all the fishermen and vendors bring their goods to the harbour and people come from all around for the day to eat and drink. This is also where you will find many of the colourful luzzu boats in the bay, so sit down for a long lunch of seafood and enjoy the view (the best places are the hole in the walls). If you are done here in the early afternoon and driving back, stop by the Dingli cliffs if you didnt have time for a stop while you were near the Mdina.
5. Golden Bay
This can be a beach day or a hiking day, or both! Golden Bay Beach has a trail the the south that connects it to two other beaches with lots of coves and cliffs and places where you can find your own little beach. It is only 3km to Gnejna Bay Beach but could take a few hours because you will be stopping for pictures and admiring the view. Once your back, there is a good restaurant at the top of the Golden Bay Beach that is perfect for sunset and dinner. It's actually the only restaurant around but is insanely popular among locals and serves up huge portions of Maltese cuisine which is great after a full day swimming and hiking.
6. Gozo History
Take the ferry and move to Gozo for the next few days! Gozo is more rural so perfect for beaches and hiking, but once your settled in your new accommodation, make sure you stop over at the oldest human structures in the world. Even if your not a history buff, anything older than the pyramids deserves a visit. Just try to imagine what life was like then and how the hell did they survive this long?! Just around the corner is the main square of the town called Xaghra which is surrounded by local restaurants that aren't invaded by tourists. This is the perfect place to get ftira!
7. Ramla Beach
This beach on Gozo has bright orange sand, its quite weird but also an amazing contrast to the colour of the sea. There are walks you can take up both sides of the bay that offer beautiful views, so spend the day at the beach or walk along the coast by combining it with the next destination….
8. Gozo Salt Flats
I never knew how people harvested salt, but I learned pretty quickly after seeing the ancient salt flats. All over the Eastern coast of Gozo there are ancient rock carvings where the salt water waves would crash, then the water would stay in these "trays" and evaporate leaving on the salt. I would never have known what they are, but they go all the way up the coast, and you can walk in and around them. Start at Reqqa Point and make your way to Marsalforn for lunch or dinner. You can drive along the coast making stops or walk the whole way in a few hours and take the bus back.
9. Blue Hole
This was the most photographed spot in Malta perhaps, but the stone outcropping collapsed in 2017. It is now a lookout point with crashing waves and places to jump into the water from above as well as having hiking and snorkeling around. You can rent boats and get a tour or go for a picnic while exploring the odd rock formations and seaside cliffs.
Final Tips
Pick your favourite activities from the list above and get on your way. Rent a car and a charming old villa on Malta and then Gozo while eating your way around the islands. I have a list of my favourite restaurants around the islands. Add a day before, after and in the middle for travel and relaxing at your hotel that has an amazing view (Malta is so hilly, almost every house has a view of the sea). As Malta is so small, try to walk around your neighborhood a bit or even to some of the destinations, since you don't want to spend your whole visit driving around in the car. I actually ran from Valletta to Marsasloxx (marathon training) but wouldn't recommend it since there aren't many sidewalks. However in Gozo, there is less traffic and the beaches and towns are quite close together so although it can be hilly, the distances are short and views are worth it.
Things you can skip if you are short on time
If you explored the Mdina on Malta, I wouldn't bother with visiting the citadella in Victoria. It is along the same lines of an old fortress in the middle of the island. If you loved the Mdina and want more, then go for it. It doesn't take long to see it all and does offer nice views of Gozo, but otherwise I would go for a hike!

Popeye's Village is nice if you have kids that you need to entertain or are a huge Popeye fan. But if your just a normal dude exploring Malta, it is quite small so not sure if it's worth the entry free. The best picture I got was from the opposite side of the bay.

More than 1 catacomb, these underground tombs are all over the place in Malta, but after you've seen one you've seen them all. Definitely visit one of them but it would be way cooler if the skeletons were still there!
Of course there is much more to see and do in Malta, learning about the history will take you a while, and eating all the delicious food will take you even longer! I hope that this guide will help you enjoy Malta as much as I did and give you a comprehensive experience leaving you feeling like you didn't miss anything. Malta is a stunning island with many layers of culture and history, so over your short visit hopefully this article will help you get to know the islands a little easier in a short time frame.
Continue reading about Malta…